Radiohead's corporate empire: inside the band's dollars and cents
The band have proven themselves shrewd businessmen, forming some 20 companies since their inception – including LLLP LLP and Random Rubbish Ltd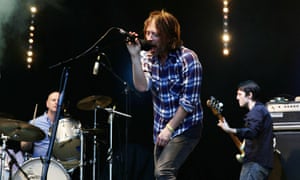 If you want to get to the heart of Radiohead as they prepare to release their new record, due in June, there is only one place you should go. It is a narrow, royal blue office in central London. Number 41 Great Portland Street to be precise, just a few doors down from the Democratic Republic of the Congo's unprepossessing embassy and the showroom of a Danish bathroom tap manufacturer.
It is the offices of Hardwick & Morris, Radiohead's accountants.
You will be extremely unlikely to be let into that building. One recent afternoon, two employees outside on a cigarette break refused to say anything about the firm, Radiohead or even the ins and outs of accountancy. "Why would you want to know that?" one asked. "It'd send you to sleep."
But that building is home to two businesses that could not be more important to Radiohead right now: Dawn Chorus Limited Liability Partnership and the appallingly spelled Dawnnchoruss Limited – the firms the band have set up over the past six months to apparently deal with all the money the record generates.